2018
JANUARY

Hello Homesteaders and All
Happy New Year!  We hope the new year brings health and happiness, including opportunities for growing and gardening and learning new things!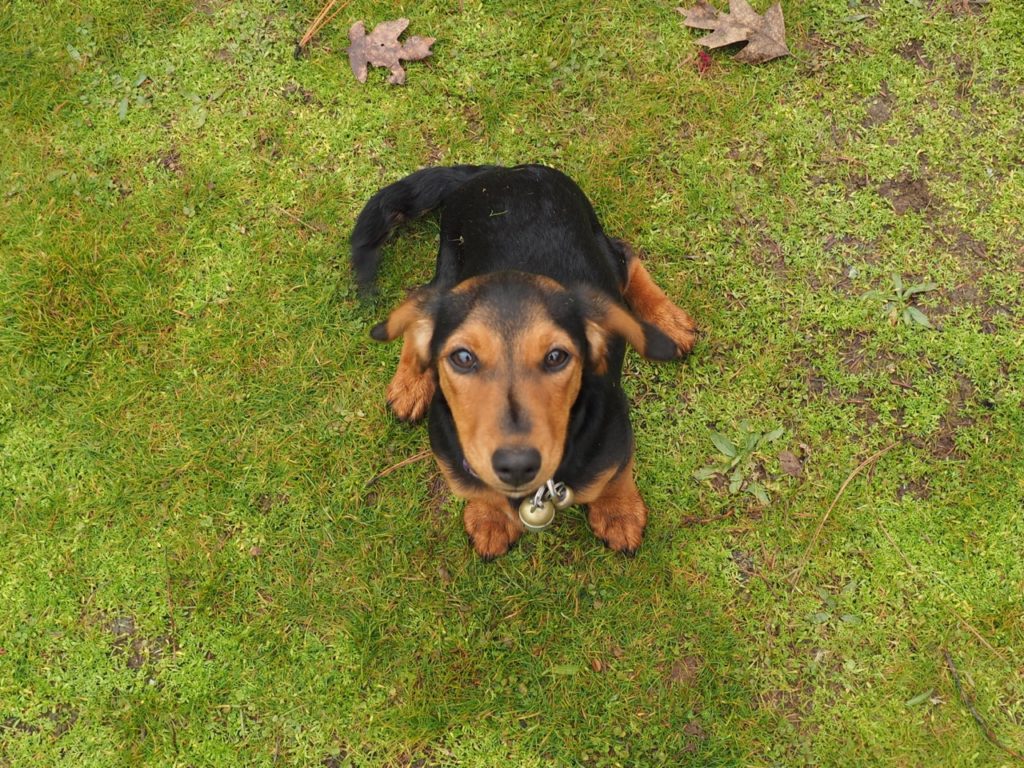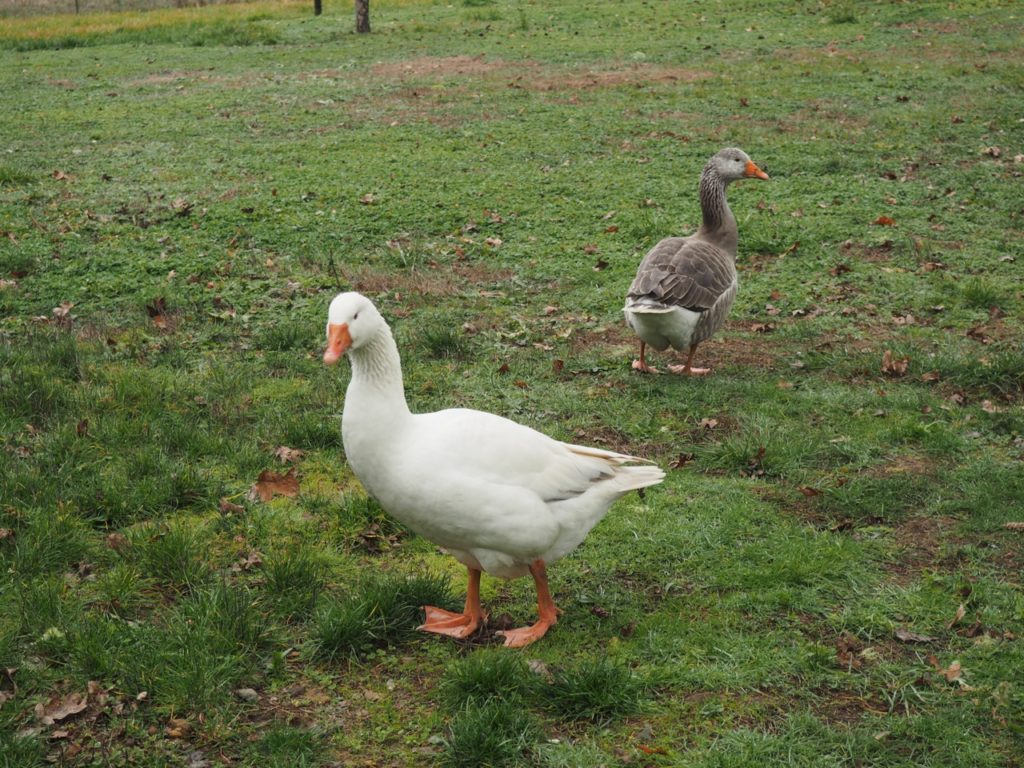 New Residents:  Munchkin Maia on the left and Goose & Gander on the right.
CLASSES
Winter Cheesemaking Intensive
Saturday, January 27 noon-5pm and Sunday, January 28, 10am-1pm 2016
Cost: $175-225 sliding scale includes supplies
If you have been thinking about taking this course now is the time!!  Our signature two-day cheesemaking primer includes a dozen dairy transformation projects, information on cheesemaking theory and equipment and a fun party atmosphere as we create a scrumptious feast each day from our cheesy creations.
More info
Bare Root: Selection & Planting of Your Urban Orchard
Sunday January 28,  2:30-5pm
Cost: $40-80 sliding scale
Enjoy fresh sun ripened fruit from your own backyard 10 months out of the year!  This course will lead you through selection, planting & general care of fruit trees and berries.  We'll talk about best varieties for the Bay Area, site selection, planting techniques and tips for maximizing fruit production in small spaces.
More Info
Spontaneous Fermentation
Thank you to everyone who came out to our 2017 Winter Open House—it was a really grand event this year, thanks to our lovely hosts at the Hillegass House.  If you bought a bottle of Plum wine from me, I expect it has popped it s cork by now.  Sorry!  I had stopped fermentation and added a bit more sweetener and I guess the yeast critters were not fully inactive.   Wine is still drinkable—just put the cork back in and refrigerate.  Remind me next year and I will give you a discount on another bottle.
Spring 2018
We hope to have the 2018 Spring Calendar online by early February, with Classes starting around the beginning of March and running through the end of June.  Remember if you want to propose a class to do so ASAP by January 15 at the very latest.
Seeking Faculty
IUH has two faculty positions open for 2018.
Position #1 Urban Livestock Specialist.
Requirements: Have their own urban farm central to Berkeley/Oakland suitable for holding classes of up to 15 people. Experience with a variety of livestock including goats, chickens, rabbits, quail and ducks.  Some teaching experience.  Good People skills.  Good admin skills:  responsive to emails within 24 hours, good at keeping records and papers.
Position #2  Urban Sustainability Specialist:  Have their own sustainable household or have access to a sustainable household with features such as greywater, rainwater catchment, solar energy, creative re-use, natural building etc. Some teaching experience.  Good People skills.  Good admin skills:  responsive to emails within 24 hours, good at keeping records and papers.
Both positions would require you to develop and teach your own curriculum. 2-5 classes per season.  Also required 3-5 hours a month of  admin support, mostly promotion & outreach.
Pay is 65% of tuition from your classes—usually comes out to $75-100 per class hour, sometimes a little less sometimes a little more.
News From the North
December was a time of building and design…looking for spots to expand our orchard, put up berry trellises and expand our sheep operation.  After finishing our easy up sheep shelter in November we worked on a more complex greenhouse design, 8 x 12 constructed of rough cut cedar, PVC and greenhouse plastic.  It has raised beds on 3 sides and the option to put in a shelf for seed flats.  As well 4 windows, two for venting, one for a fan and on automatic openers.  We have dubbed her "Growing Pains Palace."  In December we also butchered our bull and the 3 2017 boy lambs.  It feels good to have the freezers stocked, including lots of scraps and bones for our dogs. Next up will be developing our animal handling facilities as the arrival of 20 more sheep from California is imminent.  In addition we have been enjoying a relatively dry winter thus far and cosy fires in the fireplace.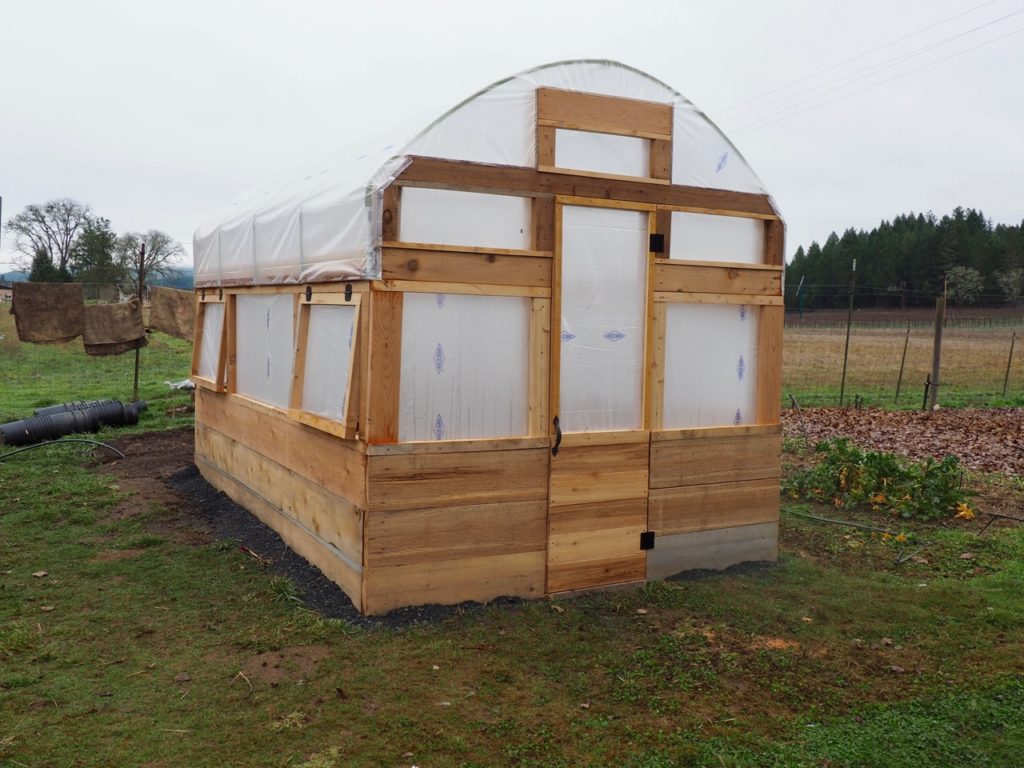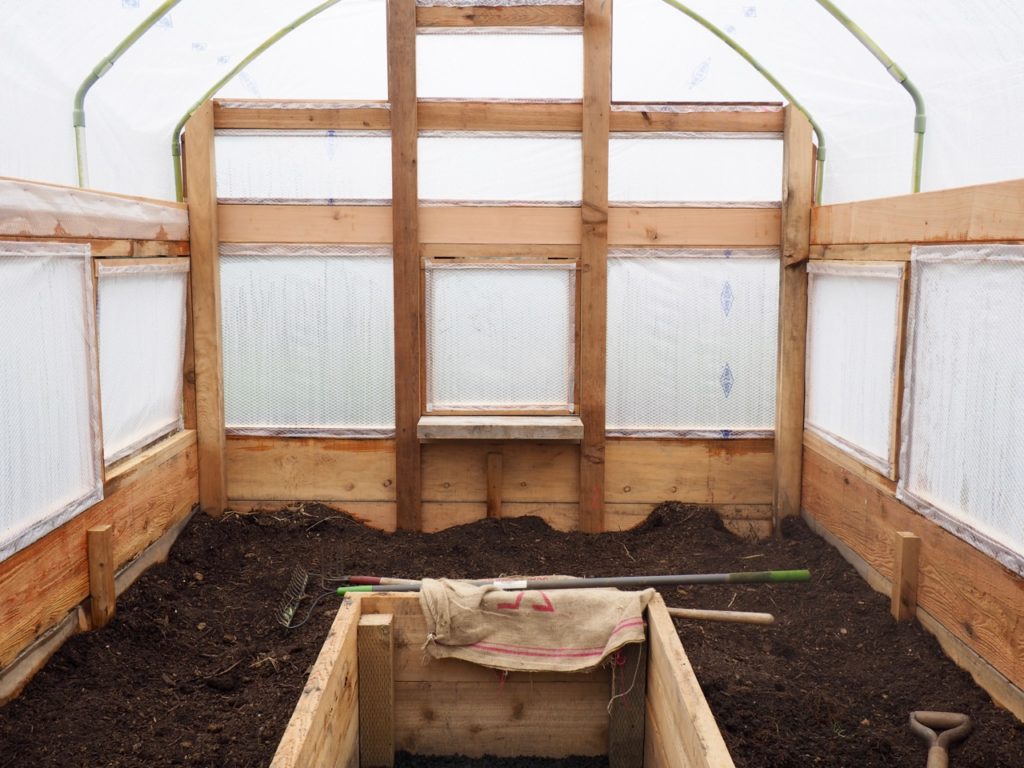 Just completed except for some small finishing touches, a mini greenhouse  with raised beds inside to extend the gardening season and help with seed starting
January in the Garden
It's getting to be pruning time.  Fruit trees should wait until just before budding out for best disease resistance, but roses and other perennials can be pruned in January on any day when it will not rain for the next 3 days.  This gives times for the cuts to dry out and start to heal over.  Prune roses down to about 3 feet in a bowl shape, leaving 4-6 of the strongest upright, outward growing canes.   Make your cuts at a slight angle just above an outward facing bud.  Keep a few of the stronger canes you have cut to propagate new roses.  Here's how.  Cut sturdy lengths of 2017 growth with at least 5 nodes.  A node is a spot in the stem where a leaf or stem might grow. There is usually a ring around the stem with a small protrusion—pre-curser to a leaf or new stem.  These are also the sites that will spring roots if they sit under the soil.  clip off stems and leaves so all you have is a stick.  Plant the sticks with the lower 3 nodes covered in a loamy potting soil and press the soil firmly around the propagation sticks.  Water thoroughly.  These can sit in the shade and should never be allowed to dry out,  Sometimes it can take many months for them to propagate—we usually leave ours for a year.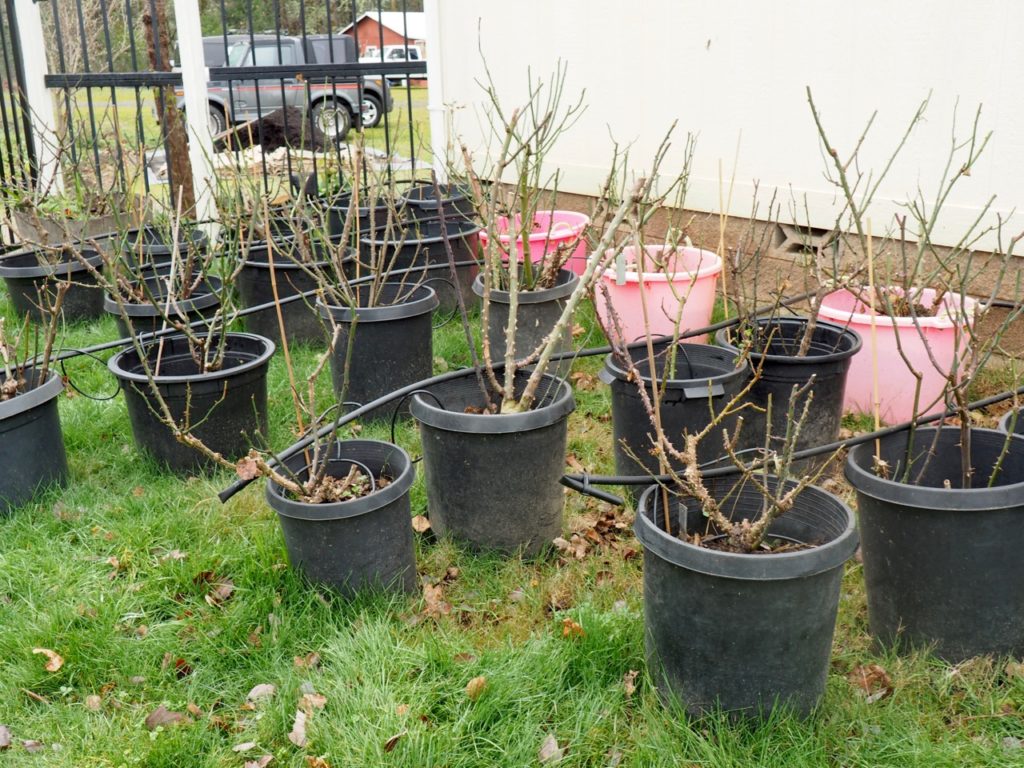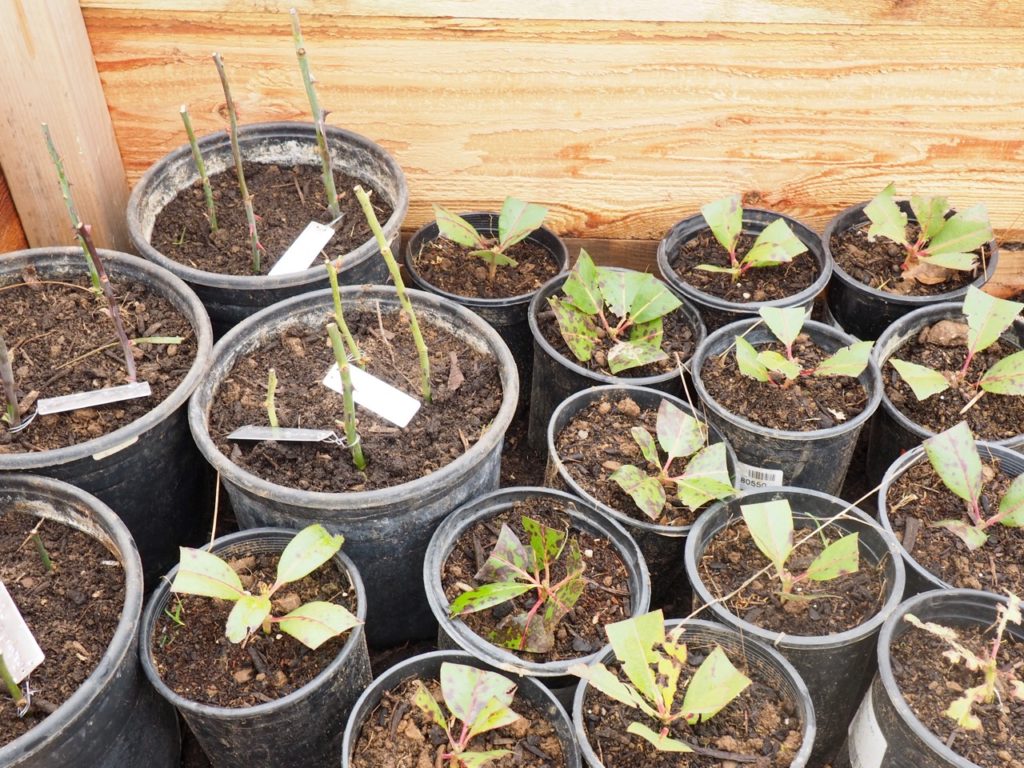 Roses after pruning and rose and madrone propagations for 2018.
Update on Pasture Raised Lamb & Beef
Thanks to those who responded last month.  We sold out of lamb instantly to local friends, but expect to have many more whole lambs for purchase next Autumn. We do have a limited number of 10 pound shares of beef available for $100 each.  The beef is delicious and tender from our Mini-Jersey bull. You get 6 pounds of lean ground beef and 4 pounds of steak.  Pay now to reserve, pick up in North Oakland, end of January.  Please respond soon if interested to receive payment instructions.  It won't last.