Hello and Happy 2014!
We've come full cycle and are again heading towards the light! January is the time to peruse your seed catalogs study your gardening books and dream of the bright colors of spring. January is also a great timetime to prune back berries, move dormant perrenials, upsize your container plantings, plant cover crops and muck and repair animal pens. With the news that 2013 was the driest year on record for the bay area, we should all be praying for some precipitation. Too bad they can't ship some over from the other side of the country. My uncle reported they had 115 inches where he lives in North Carolina.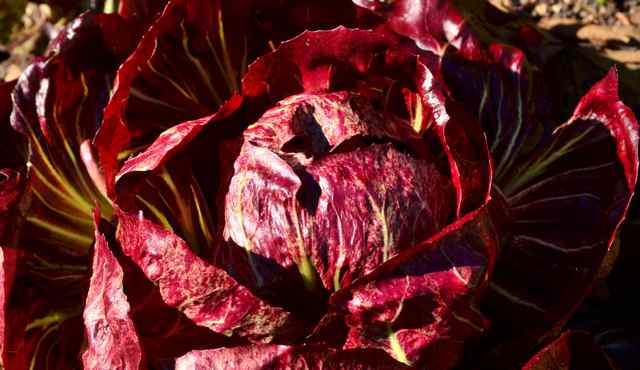 Radiccio Orchidea in the Winter Garden

Winter Session
Please join us for our winter selection of seasonal classes! Many of these classes are only offered once a year, such as our Winter Pruning and Dormant Season Grafting classes. We also have a small selection of favorites including Ferment! Lacto-Fermenting for Flavor & Health and our Winter Cheesemaking Intensives.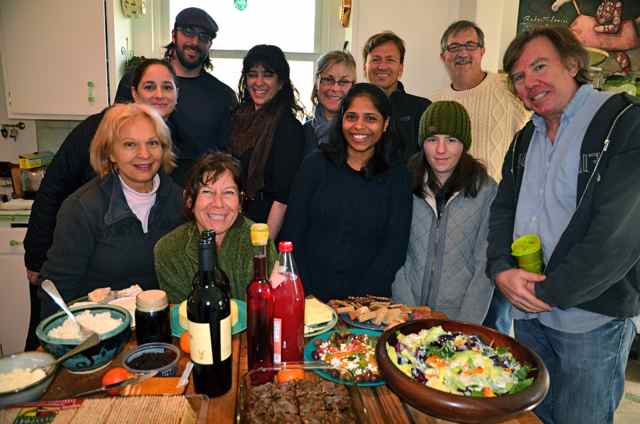 Happy participants in one of our recent Cheesemaking Intensives
Book Reviews
The Resilient Gardener by Carol Deppe
This book is a weird combination of great technical understanding and quirky personal methods ("Why I hate Drip Irrigation" "Why I Don't Compost Anymore" and "Zapped Potatoes" a recipe for microwaved poatoes are examples). Because of the quirkiness, I do not promote this as your main gardening book, but Carol has decades of research anbd experience and the book offers many great ideas. It is a bit like learning from Grandma. The sections on beans, squash, corn and potatoes are exceptional and worth the cover price. They include not only in depth information about growing and varieties, but great tips on harvesting and preparing these nutrient and calorie dense crops.
An Epidemic of Absence by Moises Valesquez-Manoff
If you have always suspected that our modern tendency towards sanitization and our fear of microbes is wrong-headed, you may want to read this amazing book that offers recent research showing that our immune systems actually need crowded, messy, farm conditions. The author cites dozens of studies showing that allergy, asthma and auto-immune diseases are recent occurrences that are the result of this modern push towards cleanliness and that almost always begin in the most affluent and educated sectors where this cleanliness abounds . He connect auto-immune diseases such as Celiac disease to a lack of parasites in our modern lifestyle and shows how our immune system is built to function at its optimal best in the presence of parasite and bacterial loads. Fascinating research your doctor doesn't want you to have.
Seeking Teachers-Home Repair and More
We are just now starting to plan our 2014 main season and still seeking new topics and teachers!
In specific, we are looking for people who could teach basic plumbing and basic electrical skills for the layperson as well as other householding skills for a new series of home repair classes.
Three-Springs Internship 2014 ~ Call for Applications
If you have ever wanted to see behind the scenes of running a small organization on a shoestring or want the opportunity to attend LOTS of our classes, please consider applying for our 9 month internship:
Three Springs Administrative Internship March 15-December 15, 2014 Deadline for applicaton: February 15, 2014. Our nine month internship gives you a good sense of the flow and work required to run a small non-profit. You will be involved in learning to manage some of the day to day aspects of running IUH as well as mentorship in a specific area such as grant writing, promotion or outreach. In addition you will attend many classes and events as a representative of the school. A great opportunity to expand both your small business skills and homesteading knowledge. This internship requires your availability Wednesday mornings as well as some weekend days and weekday evenings. The time commitment is otherwise not terribly strenous, something like 12-20 hours/month.

Coming in 2014
Urban Farm Tours 2014 will feature the best of urban farming in Berkeley Oakland and Alameda. We'll have many new sites open for you to visit. The tentative date is June 7. We'll also be working with Rachel Hoff of Dog Island Farm in Vallejo to produce Urban Farm Tours Vallejo. The tentative date is June 8. Finally, starting in March, we be launching a program that makes it possible to visit several of our farms year round on an appointment basis. Look for details in our March newsletter!
Beekeeping Mentorship
Did you know that we offer a year long beekeeping mentorship? Details are on our Animal Husbandry Classes page. If you sign up within the next 2 months our Spring Introduction to Api-Centric Beekeeping class is included in the package and is an excellent begin to the mentorship. .
Classes Winter Session ~ Details can be found on calendar or class description pages
Winter Gardening Essentials
Sunday January 19, 2014 10am-3pm

Winter Cheese Making Intensive
Saturday January 25, 2014 12 noon-6pm & Sunday January 26, 10am-2pm

Dormant Season Fruit Tree Grafting
Sunday February 9, 2014 10am-12:30pm

Bare Root: Selection & Planting of Your Urban Orchard
Sunday February 9, 2014, 2pm-4pm

Winter Fruit Tree Pruning
Saturday February 15, 2014 10am-1pm

Ferment! Lacto-Fermenting for Flavor & Health
Saturday, February 15, 2014 1pm-4pm

Herbal Medicine Demystified
SurdayFebruary 16, 2014 10am-4pm

Living Earth: Soil Health and Science for Gardeners
Saturday March 15, 2014 1pm-5pm

Organic Gardening 101
Saturday March 29, 2014 10am-4pm