Hi Folks
Well, it's true. I now live in Grants Pass Oregon.
Just moving in, living out of boxes, and trying to get some basic systems in place for the small amount of animals we have. It was a crazy move—even moving a tenth of an acre farm took two 26 foot moving trucks (one filled just with plants & animals), a sprinter van, a para-transit bus, a pick-up truck and 3 other vehicles all full to them brim. But I am here now with cats, dogs, rabbits, bees, chickens, pigeons, finches, doves, fishes and boyfriend. It is a strange new land where people in Home Depot have time to talk with you, but no one has heard of a super burrito.
I am on 22 acres of irrigated fenced pasture, in walking distance of the Rogue River, with water rights to the river. End of the road privacy, but only 20 minutes to town and 15 minutes from the I-5. It is a beautful spot, but a lot of work and infrastructure is needed for it to be a working farm.
Becca and I are working on the transferring over of the organizational aspects of the school and come 2017 the website will have a shiny new look with better functionality. We hope to have more opportunities for student engagement and a bigger presence on social media. She'll also be teaching a couple wonderful new classes this coming month, one on harvesting and using seaweed and the other on an easy no -knead bread making. For our winter open house we'll join up at her place for a meet and great, tasting and my usual fab offerings for sale. My plan is to continue to teach in the Bay aArea a couple times a season and to support the Institute as it grows and evolves.
I am a bit short on time for this newsletter this month, it being already the 2nd and all (Happy Day of the Dead!), so I am going to attach a few pictures and call it good. I will try to send a bigger better December newsletter and will stay in touch as my plans evolve. Eventually there will be a mail order shop for the homemade goodies I make that some have come to love, as well as some residential learning opportunities (farm summer camp!) in the future….I will keep you posted.
Thanks to all of you who sent me kind words after my last couple newsletters.

The view on Ferry Road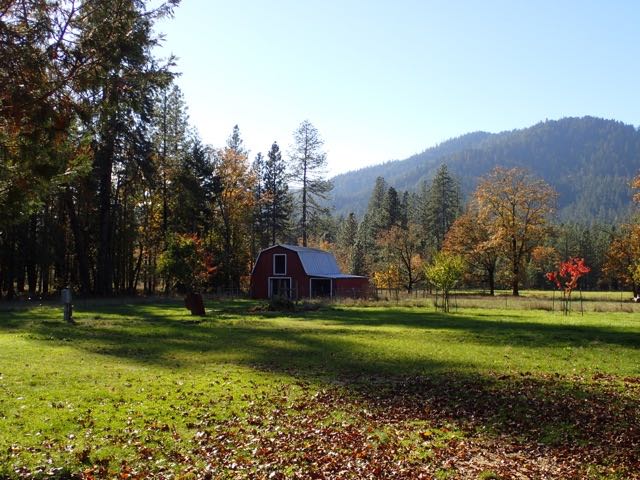 Checking out the open air beehive in my funky barn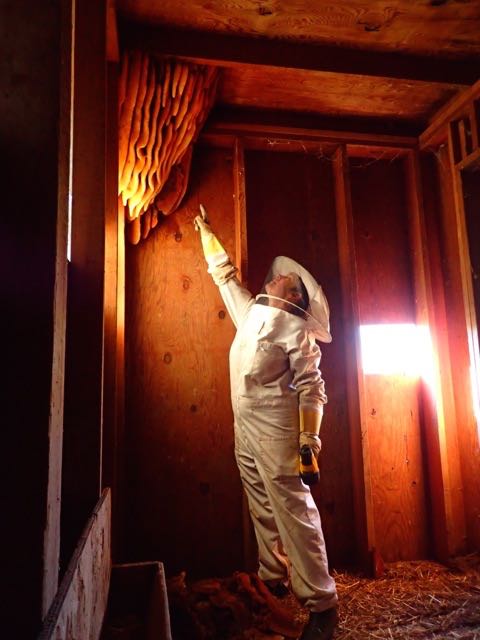 In the back yard with Daphne, the new LGD (livestock guardian dog) puppy. She will get to close to 100 pounds when full grown.