August Dreams
The August garden is a towering jungle of 12 foot sunflowers, floppy cornstalks and trailing cucurbits. Those tiny plants of months ago have turned into monstrosities--barring the way at every path. And I wonder what was I thinking, planting those starts so close together? I am sure some of you can relate. August has brought a bumper crop of lemon cucumbers, hops cones already ripe ion the vine and tomatoes gently turning heirloom colors. It also brought predators to the garden: Raccoons decimated the quail population here in one night -pulling the poor dumb birds through the slots of the hutch as they ate them limb to limb. Carnage. Yuck! Unfortunately this was a lesson learned as blood in the mulch nearby from recent butchering most likely drew the raccoons to the area, which they had not yet discovered in 5 years of keeping quail. To cheer my spirit, IUH teacher & colleague, Jim Montgomery dropped off 2 baby quail hatched in the japanese toy incubator for me to look after. They will be securely locked in the garage, thank you very much!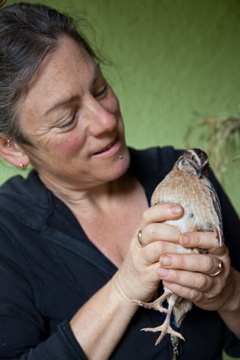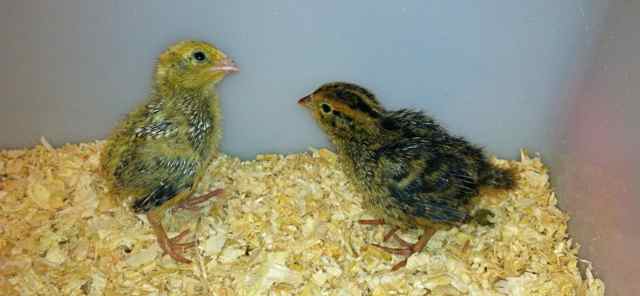 Yours Truly with a male quail (called a Roos) RIP ~ Baby quail about 1 week old
Report back from the Seed Savers Exchange
I had the privilege to attend the 33rd annual Seed Savers Exchange Campout and Conference last month, held at the beautiful 700 acre Heritage Farm in Decorah, Iowa, a small oasis of diversity in a sea of mono-cultured corn. The Seed Savers exchange is 40 years old, but has been undergoing a re-birth, as one of the founding members left, making way for a new generation of diversity geeks. The organization stewards thousands of varieties of heirloom vegetables, growing them out as necessary and storing the seed in near perfect conditions in one of the largest seed banks in North America. They document and maintain important cultural and historical information on the varieties, maintain an apple orchard with 750 different kinds of apples, steward Ancient White Park Cattle (an endangered cattle variety) and make it possible for their 17,000+ members to share some 13,000+ varieties of heirloom seed in their annual yearbook. Seed Savers Exchange is in the process of defining a new accession policy (an accession is an individual item in a collection), mapping out which categories are important to collect and preserve and how this will be sustainably accomplished. To this goal they have delineated and defined different categories of seed. The term "heirloom," for example has been somewhat co-opted and watered down. To their definition an heirloom is a variety that has been documented to have been stewarded by a family or a community over many generations. Other categories are historical commercial varieties, probable heirlooms (not as heavily documented) and modern heirlooms (more recently stewarded). Seed Savers also has a member-grower evaluation network, where they offer seed to members to report on how the varieties perform in their area. At the conference I attended workshops on apple slip grafting, seed processing and hand pollination of corn and got to hear one of my personal heros speak about the necessity of heirloom and wild plant varieties in a changing climate (see Gary Nabhan below). It was amazing to spend three days in a community where I knew that every single person I approached would heartily engage in geeky plant and farming talk--comparing climates, favorite crops, stories about chickens and bees and sharing the challenges and joys of farming different climates and eco-systems. All this, plus fireflies and a barn dance too! If you are interested in learning to save seeds and joining a growing network of people who care about keeping valuable genetic diversity out of the hands of Monsanto, consider joining IUH for an urban seed saving class October 20th or joining the Seed Savers Network.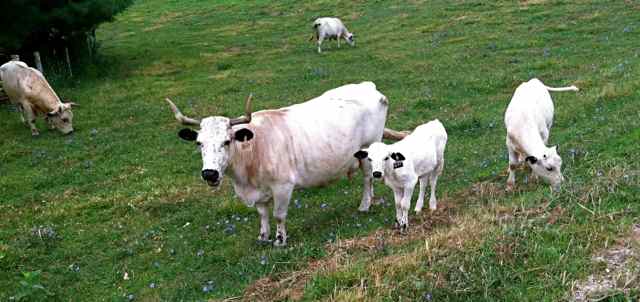 Ancient White Park Cattle at Seed Savers Heritage Farm
Take the Gary Nabhan Pledge
Gary Nabhan, author, gardener, seminal thinker and passionate seed saver is the founder of Native/SEED Search. He was the first to eat locally within 150 miles of his Arizona home and write about it, in his book Coming Home to Eat (2001, 8 years before Barbara Kingsolver). He co-authored one of my personal favorite all-time books, Forgotten Pollinators as well as dozens of others on food, food traditions and nature. Gary spoke eloquently at the Seed Savers conference on the topic of seeds and climate change. You can read his thoughts here or listen to his keynote here. (his speech start at minute 4 or so) or simply check out his new book, Growing Food in a Hotter, Drier Land: Lessons from Desert Farmers on Adapting to Climate Uncertainty
At the end of his speech at the SSE conference, Gary asked us to stand and take this pledge. There was not a dry eye amongst us.
I, (your name), a gardener, farmer, seed saver, and eater, wish to renew my sacred vow to take care of, love and serve, the astonishing diversity of life on this earth. Through sickness and in health, in times of crisis and times of joy, to sow the seeds of food justice, to sow the seeds of food security, to sow the seeds of food democracy, to sow the seeds of true food sovereignty, through my own actions and my own eating patterns so that we may all eat what we have truly sown. I reaffirm my covenant with this earth, to humbly be one more way that seeds themselves regenerate into more seeds to nourish us all.

Fall Schedule Announced~ New Classes and Old Favorites
Our Fall schedule is just about ready to go--we have a few small things yet to tweak. We have added sessions of old favorite classes and added a few topics to convey our commitment to heirloom skills, genetic diversity and environmental resilience. I also want to alert people to the series of fiber arts classes coming up. Natural Dyes this weekend 8/4 is in danger of canceling, please register ASAP! And the weekend of September 28 & 29th we have introductory classes in felting and spinning--take back the fibershed! For true sustainbility we may someday need to know how to produce our own local fabrics, dyes and yarns!
NEW! September 14 2-5pm Urban Garden Kitchen: Managing, Storing, Preserving and Cooking Your Bay Area Harvest $35-65
NEW! September 22 11am-1:30 Pollinator Paradise: An Introduction to Pollination Ecology, Native & Honey Bees $25-50
NEW! Sunday October 20, 2013 11am-2pm Seed Saving for Urban Gardeners $35-65 EBUAA member $20
NEW! Sunday November 3 10am-12:30 & 6-7:30 Real Candy: Xmas Confection Xtravaganza $50-80
NEW! Sunday November 17 2-4:30pm Wheat-Free, Gluten-Free and Grain-Free Living $35-65
RESCHEDULED & REVISED (Shorter & Cheaper!) Sunday September 29 10am-1:30pm Home Healthcare for Urban Livestock New Price: $40-75
RESCHEDULED Wednesday November 20 6:30-9pm Cheesemaking 102

SHORT TAKES
We won! 2013 Best of the East Bay Express for best place to learn DIY & Homesteading Skills. Yay!
Special Class offered in conjuntion with Temescal Home Brewing
Hops & Herbs: Organic Gardening for Home Brewers

Your Feedback Appreciated! We always want to hear from you! Whether it is lingering questions about the course content, improvements to existing classes, things you wish we would offer or other ideas on how to expand our programs, we will read and respond to every email. Please do stay in touch and let us know how we may continue to offer the best educational experiences possible!
Urban Farm Tour Photos Here are a couple photo sets from our recent farm tour, enjoy!
Photos by Raymond Wai Ming Lam raymondwaiminglam.com
Photos by IUH Oakland
Vegan Friends and Vegan Cheese As some of you may know I am, working on a book on cheesemaking that will include both dairy and vegan cheeses. I am looking to speak with vegans about their choices as well as hear about your experiences making nut, soy and coconut based yogurt, cheese and faux cheese sauces. If you are interested or willing to speak with me, please respond to this email with your interest and phone number. Favorite recipes are welcome too!
Web Snafu Earlier this month our message and registration forms stopped working for 4 or 5 days. We got them fixed but in the meantime, lost valuable communications! If you sent us a message or regostered for a class and never heard back from us, please try again!