Harvest Season Underway!
As the days gently shorten, the corn has toppled and given up her ears, the tomatoes ripen slowly in the fog, the second round of raspberries comes on, and a daily battle with the squirrels over the ripest figs ensues. While many party in the desert, the summer begins its denoument, rolling gradually closed. In it's stead we hope for some hot September days to zap the tomatoes and peppers into showing their color, to harden off the winter squash and ripen up those apples. Here in the harvest kitchen I have been saucing up tomatoes, making elderberry syrup, drying hops, infusing oil in preparation for salve making, sweetening the cordials and processing honey. Now is the time for getting the Autumn greens into the ground Plant lettuce, kale, collards, broccoli, peas, cauliflower, carrots and arugula now for harvest through to the rainy season.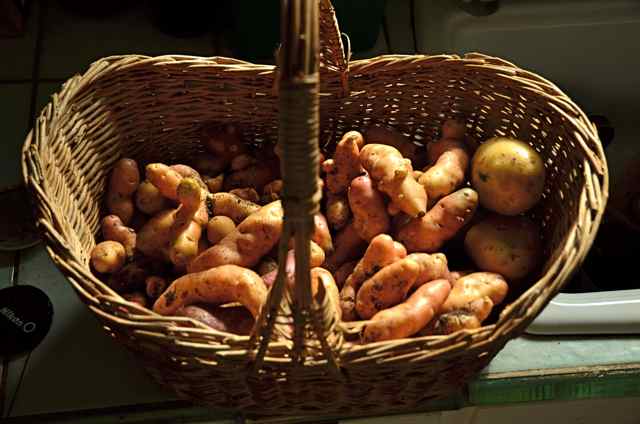 Do-Nothing Volunteer Potato Harvest
This was the result of doing nothing but letting last years bed grow

Autumn Fruit Tree Pruning
Younger fruit trees will benefit from pruning now through the Fall and can be done anytime after the fruit has been harvested, but before the leaves start to turn yellow. Reducing their load before the tree goes dormant means less upward green growth in the spring and more energy towards fruit production. As a general rule in pruning, start with the 5 Ds, removing anything that is Dead, Dying, Diseased, Damages or Doubled (two close branches moving in the same direction or occupying a similar space) . Remove suckers (sprouts coming up from the root stock) and water sprouts (sprouts going straight up at the top of the tree). Reduce longer branches by 1/3- 2/3 making a shallowly angled cut just beyond an outward facing bud. Remove any sprouts or branches that cross through the center of the tree or that cross each other. Want some pointers and some hands-on practice as well as all the basics or urban fruit tree care?
Join us for Urban Orchard Care on September 22.
Book Review: The Untold Story of Milk by Ron Schmid
This amazing book gives us the low down on the history, politics and nutrition of milk, exposing the many ways the milk industry has destroyed this wonderful product and the propaganda they have used to convince us that what we buy in the store bears any resemblance to raw unpastuerized, un-homognized milk from pasture fed animals. Written by a doctor the book includes an in depth history of milk in traditional cultures, the politics and industrialization of milk over the last century and a half as well detailed information on lactose intolerance, the safety of raw milk, milk and heart disease, the role of enzymes and bacteria in health and so much more. It also details all the things that happen to normal store bought milk, before it hits the shelf, making it not a natural, but a highly processed food product. The book shows the healthful benefits enjoyed by traditional cultures that lived pastoral lives, with raw milk as the primary source of protein and how the milk industry has used fear and misdirection to remove this wonderful product from the market as a readily available item. This book reinforced my commitment to promoting raw milk and the neccessity of changing regulations so that it is more available and accesible to those who enjoy dairy products.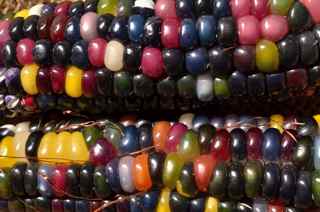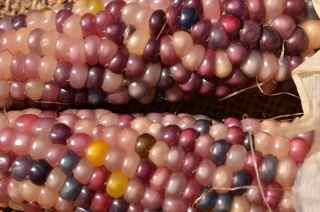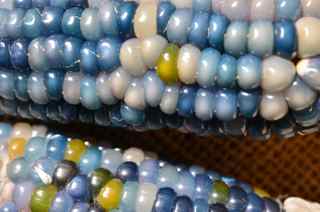 Glass Gem Popcorn
Heirloom Variety Review: Glass Gem Popcorn
After seeing the famous viral photograph of this corn, I waited over a year for the seeds to become available and paid the steep price of $10 for a packet of seeds from NativeSEED/Search. I planted the corn around the first of May and harvested it starting mid August. This was one of the more satisfying crops I grew this year. Approximately 50 plants ion a 5 x 5 bed yielded over 100 small ears of corn, each completely unique and colorful. Unwrapping the ears was like christmas-come-early. The variety boasts a huge variation in kernal size, shape and arrangement--from perfect straight lines, to kernals that spiral around the cob gently. Just about every color was represented from pink to purple to blue to yellow. There was also a great diiversity of stalk height and cob size. But what was consistant was that as they dry each cob turns to glass--boasting transluscent kernals that catch the sun. A few photos are included here, more can be seen here.
North Oakland Day of the Dead Wants You!
The North Oakland Day of the Dead is a community based, participatory celebration. The event takes place based out of Dover Park (Dover between 58th & Aileen). Friday November 1st 4pm til dark. 4pm Altar building, 5pm Procession, 6pm Dinner. We are inviting folks to get involved! We'll need cooks the week before, people to help with our altars or initiate their own, food servers and more. Free community wprkshops for puppet & mask building and altar preparation are planned for the weekend before (details not yet available). We'll announce more details in the October 1st newsletter. In the meantime, if you would like to help make this community celebration a reality, email us here to be put on the list of volunteers and helpers!
Non-Dairy Friends and Non-Dairy Cheese-Take 2
Last month I asked for input from folks who use non-dairy alternatives to milk, cheese and cream, but I got no response!. If you are you vegan, paleo, lactose intolerant or choose non-dairy options for some other reason, I am curious to interview you about your choices and your practices. It would only take 5-10 minutes of your time. If you can help please respond by email with your phone number and good times to call you.

Short Takes
IUH in the Edible East Bay this month
IUH Classes included amongst the best in the Nation!

3rd Annual Pilgrim Soul Forge Harvest Fair
IUH Instructor, Grant Marcoux invites your out to his smithy next weekend for his annual event which celebrates traditional crafts and skills. September 8th 2013, 12-6pm. 101 West Tower Avenue, Alameda, CA 94501 This is on the old navy base. GPS does not track well to this location. Take West Atlantic to Orion, Right on Orion and RIGHT on West Tower (not left as the GPS will tell you). Blacksmithing Demonstration, live music , crafts and artisan food products. Bring your knives and garden tools to be sharpened by a real blacksmith!
Urban Farm Tours Year Round Starting in 2014, select farm tour sites will be available year-round for fee-based, private tours by appointment. Included in this announcement is a reminder that these are private sites which may only be visited by advance arrangement--not on a walk-in basis.

Harvest Season Class Highlights
We have a fantastic line up of classes this Fall and are hoping that you find some new topics of interest and join us to expand your knowledge! If you have been waiting to take a Canning class, the last class of the year is on September 21st. We also have the last chance for Cheesemaking Intensive in Mid October, End of Season Beekeeping classes. If you have been thinking of taking your fiber skills to the next level, join us for felting and spinnning back-to-back the last weekend of the month.
NEW! September 14 2-5pm Urban Garden Kitchen: Managing, Storing, Preserving and Cooking Your Bay Area Harvest $35-65
NEW! September 22 11am-1:30 Pollinator Paradise: An Introduction to Pollination Ecology, Native & Honey Bees $25-50
NEW! Sunday October 20, 2013 11am-2pm Seed Saving for Urban Gardeners $35-65 EBUAA member $20
NEW! Sunday November 3 10am-12:30 & 6-7:30 Real Candy: Xmas Confection Xtravaganza $50-80
NEW! Sunday November 17 2-4:30pm Wheat-Free, Gluten-Free and Grain-Free Living $35-65
NEW! Sunday November 3, 2-5pm BioChar for Soil Fertility and Eco-Resilience $5-75
NEW! Saturday November 9 12-4pm Living Earth: Soil Science for Urban Gardeners
RESCHEDULED & REVISED (Shorter & Cheaper!) Sunday September 29 10am-1:30pm Home Healthcare for Urban Livestock New Price: $40-75 sliding scale.
RESCHEDULED Wednesday November 20 6:30-9pm Cheesemaking 102
RESCHEDULED October 9th 6:30-9:30pm Meat 101: The Chicken