Sing a Tune of Farm Love in June!
Urban Farm Tour!
In just one week, 8 amazing home-scale farmers will open their doors to the public to incite and inspire you. All the details about the tour will be in your inbox on Tuesday morning! It is not too late to make a donation to receive a day pass to the event and be entered in our FARM TOUR RAFFLE! Prizes include a private tours, homegrown honey and urban farm fresh eggs.
Offerings in June
June Is Urban Farm Month! June classes include classic Urban Farm & Kitchen skills such as our Cheesemaking 101, Backyard Chickens and Gardening101 classes. Learn to make more plants fof free at Propagate! with nurseryman Anders Vidstrand on June 23. By popular demand we have also added another canning class this month: Canning Made Easy on June 23 10am-12:30. If you have gotten curious about Permaculture and want to know what it is about--jpin us in the fabulous Algarden Food Forest for our One Day Permculture Crash Course on June 15th.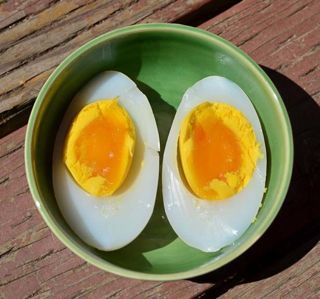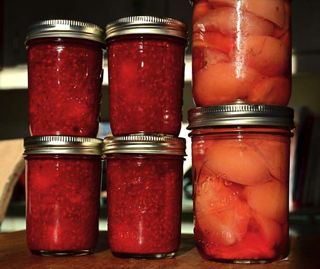 photos: goose egg ~ first canning projects of the season
Canning Made Easy: Raw Pack
In our grandmothers day the canning process was a multi-day kitchen ordeal. Nowadays we can simplify, that process and can up a batch of garden goodness in just an hour or so. One of the easiest ways to preserve the harvest is through the raw packing process. Simply cut up your fruits, tomatoes or other vegetables, pack into clean 3 part mason jars (jar lid and ring), fill with water, syrup or juice, screw on the lid and boil covered in water for the proper amount of time. Be sure to leave 1/4" space between the top of the food and the top of the jar. For boiling water bath canning use any size jar up to one quart but not larger.
SWEET FRUITS (apricots, plums, berries etc): Slice and pack into jars. Add 2-3 Tbsp. sugar per pint. Cover the fruit in boiling water, leaving 1/4" headspace. Secure lid and process in boiing water 20 minutes.
TOMATOES: Dice and pack into jars. Add 1 tsp salt and 1Tbsp. lemon juice per pint (optional) Cover with boiling water leaving 1/4" space. Secure lid and process in boiling water 45 minutes
VINEGAR PICKLED VEGETABLES (peas, beans, carrots zucchini etc): These low acid vegetables may be preserved by the raw pack method with sufficient amount of vinegar. NEVER can these low acid vegetables in a water bath without vinegar as this may cause botulism. Slice and Pack vegetables into jars. Prepare a vinegar brine with cider or white distilled vinegar that is 5% acidity. A safe vinegar solution is 3:1 (3 parts vinegar to 1 part water). Sugar salt, herbs and spices may be added to the brine for desired flavor. Cover vegetables with the hot vinegar brine. Secure lid and process in a water bath for 15 minutes.
For all raw pack projects. After the allotted process time. Pull jars carefully from the waterbath taking care not to tip them. Let cool without distunbring until lid pops down. Fruits and tomatoes may be eaten immeadiately. Pickled vegetables should be allowed to rest for a few weeks to develope their flavor.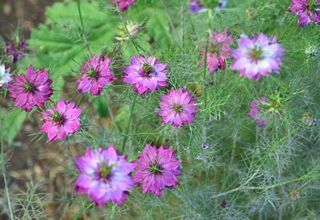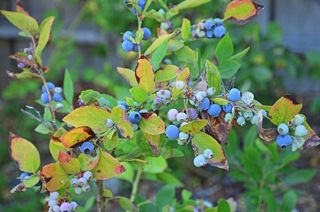 photos: pink love-in-a-mist~ imminent blueberries
In the Blog-o-sphere: Backyard Roots Book Review
Backyard Roots: Lessons on Living Local From 35 Urbam Farmers by Loris Eanes (Skipstone Press 2013) $21.95
On a beautiful foggy morning last week I met with Lori Eanes to talk about her new book, my old book and to show her around my garden. The resulting blog post can be seen here
Backyard Roots is a wonderfull treatise on the beauty and practicality of Urban Farming. Featuring 35 West Cpast farmers of all backgrounds and ages the book gives a fantastic overview of our movement with stories of diverse people choosing the urban farming lifestyle. As well as some local personalities like Chris Shein, Kitty Sharkey, the folks from Greywater Action, and Birgit Evans of the new Pollinate Farm & Garden Shop, the book features people farming as a path to cancer recovery, to supply a local restaurant or small scale fiber farming, While the book serves mostly to tell stories of each farmer in pictures and words, scattered throughout are sidebars with tender tidbits and tips such as how to involve the kids, grow from seed or "five interesting asian vegetables." A photographer and blogger by profession, Loris pictures alone are worth the cover price. To purchase directy from the author, click the title link above.
Classes
DATE CHANGE Propagate ! Make More Plants for Free is now scheduled for June 23 10am-3pm
ADDED Canning Made Easy Junbe 23 10am-12:30pm
Wednesday, June 12, 7:00-9:00pm
Beyond the Basics: Beekeeping

Saturday, June 15, 10:00am-4:00pm
Urban Permaculture Crash Course
Saturday, June 15, 1:00-4:00pm
Backyard Chickens
Sunday, June 16, 1:00-4:00pm
Cheese Making 101

Saturday, June 22, 10:00am-3:00pm
Organic Gardening 101

Sunday, June 23, 10:00am-3:00pm
Propagate! Make More Plants for Free

Sunday, June 23, 10am-12:30pm
Canning Made Easy

Subday Hune 23 2-5pm
Introduction to Home Smoking