Hello Harvest Season Homesteaders,
With the Day of the Dead behind us it is time to stop working so hard and start to enjoy the harvest. While we have a few classes remaining for 2012, our season is rolling to a close. Despite a number of class cancellations this year, we still successfully produced 75 classes. Thanks to all who attended and learned new skills! Please check out our remaining classes for 2012 ( including Machine Sewing Basics, one final Cheesemaking 101 at the end of November and an Xtra naughty confections class in December). Our Winter Session, which runs Jan15-March 15 is also on the calendar and open for registration. the offerings are listed at the end of this newsletter.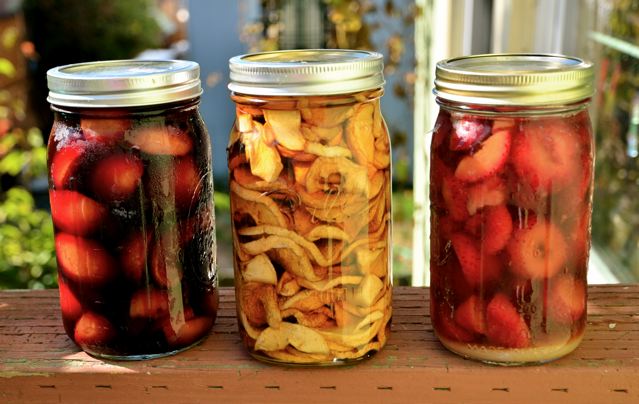 Time to Plant Garlic!
It's that time again. Garlic magically goes in the ground just about the time we should start adding it to our Autumn soups to boost our winter health. Just separate the cloves and stick them about 2 inches deep in well fluffed and amended soil, with the pointy tip towards the sky. You can use any garlic from the store, but for the true garlic geek, we suggest perusing the catalog at Filaree Farms. After the luscious first rains is also a great time to scatter some lettuce seed throughout the garden for a little harvesting along the way....
Call for Proposals
We are officially accepting proposals for new classes for our 2013 season! Please check out our guidelines for teaching and submitting class proposals here. We also welcome your ideas for topics you'd like to see added to our curricula. We are specifically looking for someone to teach home meat curing, salami making, and jerky. We'd like to see a great class on sourdough, gluten free baking, allergen -free cooking with coconut, how to make jun (fermented japanese drink) , creating ponds and other water features for the backyard and aquaponics, Beyond a level of expertise in their subject, teachers should be good people people and be able to provide a space to teach from. We would like to see more applications from teachers of color and those from other cultures, backgrounds and abilities. Deadline for proposals Is December 31.
2013 Internships & Work/Study Opportunities
Three Springs Administrative Internship
March 15-December 15, 2013 Deadline for applicaton: February 15, 2013
Our nine month internship gives you a good sense of the flow and work required to run a small non-profit. You will be involved in learning to manage some of the day to day aspects of running IUH as well as mentorship in a specific area such as grantwriting, promotion or outreach. In addition you will attend many classes and events as a representative of the school. A great opportunity to expand your small business skills and homesteading knowledge. This internship requires your availability wednesday mornings as well as some weekend days and weekday evenings. Here's what one of our current interns has to say about the experience "This year was professionally and personally transformative. I learned about running a grass-roots organization with integrity and creativity, met many gifted people and got to attend a lot of amazing classes. A deep well of knowledge and experience"
Download Application for Spring Internship

Work Study Days - Learn By Doing
Begins January 2013 Applications are ongoing
Work Study Days give you an opportunity to learn by doing working with IUH faculty and other experienced homesteaders on a wide variety of projects. Once accepted to the program, you will receive email notifications of the work days. Simply RSVP for the ones that interest you. While the program offers a lot of flexibility both to faculty and student participants we ask that once accepted you commit to at least 4 work days through the course of the 9 month season. The program will officially begin early in 2013, but we are accepting applications immediately.
Download Application for Work Study Days.
Are you experienced? We are accepting applications from people who would like to teach hands-on skills in exchange for labor and be one of the sites to offer work/study days. Download Work Study Site Application

Permaculture Principle #8
Integrate Rather Than Segregate "Many Hands make light work"
This principle is about setting things up so that systems interconnect and support each other. My favorite example from nature concerns the elegance of natural fertilization systems. Throughout the years, nutrients from the forest wash downstream and out to sea. If this happened indefinitely all the nutrients would be lost to the forest. But thankfully (or nowadays no more so thankfully) the salmon swim upstream once a year. They spawn and die. Bears eat the dying salmon and poop in the woods, depositing the nutrients back in the forest. A classic example from renowned grass farmer, Joel Salatin is his practice of throwing a few corn kernals in the horse stall every so often as the winter proceeds and the bedding builds up. In the spring he lets the horses out to pasture and brings his pigs ito the stalls. The pigs root through the straw for the kernels loosening it up, turning it and getting it ready for the compost bin. Principle #8 also celebrates the concept of stacking functions. Stacking functions is the idea that each element in the system has multiple outputs or roles within the system, Let's take an example from the office where we work. Say you instigate a weekly visit from someone who offers chair massage. It csts a bit of money (your input), but the employees feel cared for, more relaxed and thus more productive which ultimately enhances output. The massage therapist gains an income, which in turn puts money back into the community. The whole experience helps build morale and connection between the insular world of the office, the world of the body and the greater community. And so it goes....one input, many functions, many outputs. See how easy it is?
Mark Your Calendars! Winter Open House
Sunday December 9th,12 - 5pm
Monday December 10th 6-9pm
Join the party! Our year-end event is a celebration of the bounty. There will be tasting (homemade jam, mustard, mead, honey cordials and more), convivial people and shopping! Who could ask for more? Lots of cool handmade goodies and treats starting as low as $1. Come grab your stocking stuffers, Secret Santas and private stash. Enjoy the cheer and support the local economy. Win-win happy joy! We'll send out the address in the December newsletter, but for now, note the date. not to be missed!
WINTER CLASSES
(for description, cost, etc see our calendar or description pages)
Date Change: Cheesemaking 101 is now offered on Thursday November 29
Date Change: Cheesemaking 102 is now offered on Thursday Decmeber 12
Added: Xmas Confection Xcess Xtravaganza featuring decadent bacon chocolate or raspberry truffles and fluer de fel caramels Saturday & Sunday December 15 /16
NOVEMBER
Wednesday November 14
Machine Sewing Basics

Saturday, Novermber 17th, 10:30am-1:00pm
Olive Picking and Brining on the Ranch
Thursday November 29
Cheesemaking 101

DECEMBER
Wednesday December 12, 6:30-9pm
Cheesemaking 102

Saturday December 15 1pm-5pm and Sunday December 16 10am-noon
Xmas Confection Xcess Xtravaganza
In this super decadent holiday class you will learn how to make pralines, caramels and chocolate truffles. Our recipes will include baconpralines, pecan pralines, bacon or raspberry chocolate ganache, chocolate truffles, fluer de sel caramel and chocolate covered almonds. You will come away with basic confection concepts, recipes and information on how to develop your own chocolate trufflle recipes plus a box of hand crafted organic christmas confections. Cost: $100 plus $20 supply fee. Limited to 8 participants.
2013 Winter Session
Jan 15-March 15
JANUARY
Saturday January 19, 10am-3pm
Winter Gardening Essentials
Sunday January 20 1-5pm
Refresh Your Face for 2013
DIY Spa: Home Facials
Saturday & Sunday January 26 & 27
Winter Cheesemaking Intensive
FEBRUARY
Saturday February 9th, 10am-1pm
Winter Fruit Tree Pruning
Saturday February 9th 2-5pm
Bare Root: Selection & Planting Of Your Urban Orchard
Saturday Feb 23 10am-1pm
Dormant Tree Grafting
Saturday February 23 1pm-4pm
Ferment! Lacto-Fermenting for Flavour & Health
MARCH
Saturday & Sunday March 2 & 3
Mosaic Making Intensive