Hello Lovely People,
Day three of the rain. As I sit to write the newsletter, December is already upon us. The rain has brought an unaccustomed lushness to the waning garden, leaves have tuned and fallen and the garlic has already popped up it's happy green shoots. Such a difference than last year!
Whether you love or hate the holiday, I hope you had a grand Thanksgiving week. I spent the week traveling with my friend and colleague, Jim Montgomery, who teaches many of our animal husbandry classes. A highlight was visiting the farm of his mentor and teacher and hanging out with the sheep, pigs, horses, cows, ducks, geese, chickens, goats and dogs in the rain. How inspiring to see a small-scale working farm. We brought home several hundred pounds of meat and it is a good feeling to know what a great life those animals had living spaciously in those pastures.
Now back home, the elves are busy getting ready for the open house next weekend, but strangely they look suspiciously like bees and kitty cats. Hm. I hope you will join me next weekend and also check out the winter class offerings. In collaboration with the wonderful folks overr at Urban Worm, we have added a class on Soil Science and Health that I think will be fantastic. Description below. One time only!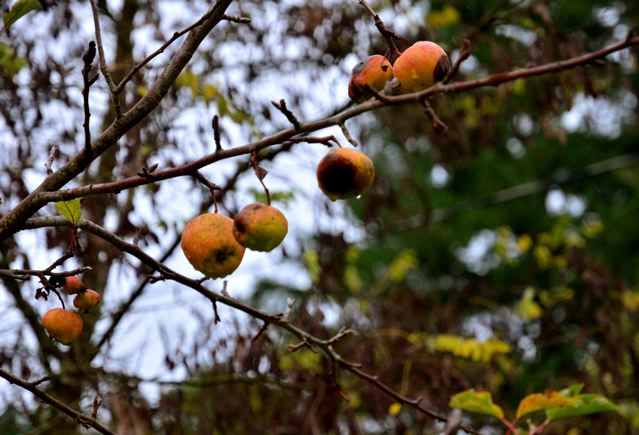 You Are Invited
Winter Open House
Social, Shopping and Unofficial Mosaic Unveiling
SUNDAY December 9, 12 noon -5pm
MONDAY December 10, 6pm-9pm
Private Showing & Sales by appointment in the week following. No early showings! Sorry.
Location
Home of Ruby Blume, IUH Founder & Director
(use contact form for location address)
Join the party! Our year-end event is a celebration of the bounty. There will be tasting, convivial people and shopping! Who could ask for more? Lots of cool handmade goodies and treats starting as low as $1. Come grab your stocking stuffers, secret santas and private stash and support local, small-scale economies.. Of course you are not required to shop--just come for a taste and enjoy the company. As well, this is the unofficial unveiling of the stair mosaic that has been in progress here for several month. Unofficial as it is not entirely done, but close enough! And we hope it inspires you enough to come to our mosaic making intensive in March/
Here's a partial of what will be on hand
Tasting: Mustard, honey, ginger beer, mead, sauerkraut, jam, cordials, capra cocoa (goats milk hot chocolate), bacon truffles and fleur de sel caramels
Art: Tiles, Ceramic cups and bowls, wall art, photo cards, glass art, lots of seconds and a big pay-what-you want grab bag
Mercantile: Tinctures, salve, lip balm,beeswax candles, authentic feedsack shopping bags, lotions by Lunabee Body, upcycled linens, seed stocking stuffers, and a big pay-what-you-want grab bag!
Bookshop: Urban Homesteading Book, Rabbit Zine, Cheesemaking Zine, Beeswax Zine and more....
Pantry: Preserves, mustard, mead, honey, truflles, caramels, cordials
Feel free to invite friends along but do not repost or publish online. Thanks.
Online Shop Beta Version
Can't make it to the Open House?
Books and zines are available for purchase online to our students and newsletter subscribers this month using this link. We'll be officially launching our online store early next year.
http://www.iuhoakland.com/bookshop.html
What is available there: Rabbit Zine, Urban Homesteading Book, Cheesemaking for the Rest of Us, Beeswax Zine. Prices include tax and shipping.
Please note that although you may start purchasing immediately, we will not process these orders until after our open house. You will still get things in time for Xmas. If you wish us to ship to someone else and include a gift card, let us know in the special instructions box at checkout.
Hot Off the Press
Cheesemaking For the Rest of Us.
Finally I have assembled the entirety of IUH cheesemaking courses into a 40 page booklet Full of pictures, recipes and tips, it is a thorough set of notes for any class and a stand alone document for those wishing to get started at home. The focus is on farmstead cheeses that anyone can succeed at in their busy lives. It demystifies the processes, explains how things were done traditionally as well as in modern dairies and should give the reader an even greater sense of appreciation for this much beloved food. Cost purchased direct is $16, online with tax and shipping is $19.86.
Permaculture Principle #9 Small and Slow Solutions "Slow and Steady Wins the Race"
This principle is an extention of the "Small is Beaitiful" principle. It is easier, more elegant and more efficient to make and maintain a small change, rather than trying to overhaul an entire system all at once. Examples of small and slow solutions could include repairing an old tool rather than tossing it out and purchasing a new one. It may seem like more work in the moment, but the larger impact for the environment is greater. Buying things as you actually need them, rather than taking on a new hobby, purchasing an entire library of equipment and never using it. Compost is an example of small and slow solutions. It is slower than adding a bunch of chemicals to your soil, but far more efficient in the long and slow run. Finally, as New Years is upon us, consider when you go to make them, that the giant new years resolutions rarely last, while the one small change may be easier to make and will impact a greater change with commitment to it over the time.
Reminder: Call for Proposals
We are officially accepting proposals for new classes for our 2013 season! Please check out our guidelines for teaching and submitting class proposals here. We also welcome your ideas for topics you'd like to see added to our curricula. We are specifically looking for someone to teach home meat curing, salami making, and jerky. We'd like to see a great class on sourdough, gluten free baking, allergen -free cooking with coconut, how to make jun (fermented japanese drink) , creating ponds and other water features for the backyard and aquaponics, Beyond a level of expertise in their subject, teachers should be good people people and be able to provide a space to teach from. We would like to see more applications from teachers of color and those from other cultures, backgrounds and abilities. Deadline for proposals Is December 31.
Reminder: 2013 Internships & Work/Study Opportunities
Three Springs Administrative Internship
March 15-December 15, 2013 Deadline for applicaton: February 15, 2013
Our nine month internship gives you a good sense of the flow and work required to run a small non-profit. You will be involved in learning to manage some of the day to day aspects of running IUH as well as mentorship in a specific area such as grantwriting, promotion or outreach. In addition you will attend many classes and events as a representative of the school. A great opportunity to expand your small business skills and homesteading knowledge. This internship requires your availability wednesday mornings as well as some weekend days and weekday evenings. Here's what one of our current interns has to say about the experience "This year was professionally and personally transformative. I learned about running a grass-roots organization with integrity and creativity, met many gifted people and got to attend a lot of amazing classes. A deep well of knowledge and experience"
Download Application for Spring Internship

Work Study Days - Learn By Doing
Begins January 2013 Applications are ongoing
Work Study Days give you an opportunity to learn by doing working with IUH faculty and other experienced homesteaders on a wide variety of projects. Once accepted to the program, you will receive email notifications of the work days. Simply RSVP for the ones that interest you. While the program offers a lot of flexibility both to faculty and student participants we ask that once accepted you commit to at least 4 work days through the course of the 9 month season. The program will officially begin early in 2013, but we are accepting applications immediately.
Download Application for Work Study Days.
Are you experienced? We are accepting applications from people who would like to teach hands-on skills in exchange for labor and be one of the sites to offer work/study days. Download Work Study Site Application
Winter Classes
See calendar and class description pages for details

ADDED
The Real Dirt: Soil Health and Soil Science for Gardeners
Sunday January 13 1-5pm
Instructor: Paul Holowko
Cost: $45-75
In this mini-intensive we'll meet the different living organisms in the soil, learn what each does to enhance garden productivity and look at how to feed and proliferate these micro-organisms for specific results, using compost teas. We will learn how legumes partner with bacteria to fix nitrogen, how fungi partner with trees and other plants to uptake nutrients and a bit about the fungi life cycle. Finally, participants will have the opportunity to mix up samples of their own soil and idenitfy who is living there using the microscope. A wealth of information and inspiration to deepen your knowledge and appreciation of soil as the most important player in our garden.

DIY Spa: Home Facials
Sunday January 20, 2013 1-5pm

Cheese Making Intensive
Saturday January 26 1-6pm and Sunday January 27, 10am-2pm 2013FEBRUARY
Urban Orchard Care: Winter Pruning
Saturday February 9, 10am-1pm

Bare Root: Selection & Planting of Your Urban Orchard
Saturday February 9, 2013 2pm-4:30pm

Dormant Season Fruit Tree Grafting
Saturday February 23, 2013 10am-1pm

Made BY Hand: Mosaic Making Intensive
Saturday March 3, 10am-4pm, Sunday March 24 10am-1pm