Suddenly, Autumn!
Did you feel that seasonal shift? One morning you step outside and the air has that crisp autumn edge that starts to turn the leaves to brown. It is this subtle cold snap, that crisps up the apples, sweetens the wine grapes and signals the bees to reduce their population for winter. It seems to have come a bit early this year along with an unexpected and wonderful downpour that saved a whole week of watering the garden. A couple students here for the last canning class discovered that my persimmon tree has fruit. Three of them! I have been waiting years for the tree to offer something up, and I hear that once they start, there is no stopping them! And, there is no stopping us at IUH either! In October we have many lovely classes for your learning pleasure--jump on them soon! Just this week you could hop into the alchemy of honey wine (Brewcraft: Mead 10/2), dive into fermentation (Fermentation Intensive 10/6) or skip along the trail with Tanya Stiller on her Fall Foraging Expedition (10/5). It is not too late to get in on our most fabulous Cheesemaking Intensive (October 12/13th) . We also have wonderful claaases in Homemade Toiletry Products, Aquaponics, Decadent Cordials, Seed Saving and more. Please check our calendar for the most up-to-date information.


hidden persimmon

Preservation 101: Infusions
Infusing is the process of drawing the flavours and constituents of plants into a "menstrum" or liquid base. The most simple infusion is a tisane--herbs infused in hot water--commonly known as herbal tea. Not just a pleasant drink, herbal tea is a ancient and reliable way to get plant medicine into the body, Water based infusions like tea should be drunk immediately and last but a few days , even refrigerated. For a longer shelf life and more preservative effect, use either vinegar or alcohol as the liquid base. You can infuse almost any plant material into either and depending what you are infusing you may end up with an herbal tincture, a cordial or something in between. Traditionally people made and consumed dual purpose products that offered both medicinal effect and good flavours. Bitters are an example of this wonderful possibility. They support digestive function and quench that desire for a strongly flavored drink in a tiny glass. As far as recipes your imagination is the only limit. Simply put your chopped herbs, spices or fruit into a jar and cover with brandy or vodka (or vinegar). Place in a cool dark spot, shake once or twice a week and strain out after 4 weeks (give or take). For a tincture use as is. For a cordial add sweetener. about 1/2 cup per pint of liquid. If you infuse fruit in brandy, it also preserves the fruit (make sure it is properly submerged) and you can use the brandied fruit in deserts or baking.
2nd Annual North Oakland Day of the Dead Celebration
Please join us!
Friday November 1st 4pm til dark.
4pm Altar building, 5pm Procession, 6pm Dinner
Dover Park (Dover between 58th & Aileen)
Free community Workshops Saturday and Sunday October 26 & 27 noon til 4pm plus Wed October 30 5-8pm Location TBA
We'll be making paper mache skulls and puppets to carry in the processions and adorn the altars. Mark Your calendars. We are still looking for a location and will send out an announcement a week ahead with details.
Seeking Volunteers: Cooking, Serving, Set Up and Clean Up
Seeking Donations: Looking for Baked Goods (pan de muerto), Produce, Paper plates and cups, organic milk and mexican hot chocolate.
Winter Open House
Mark Your calendars for our annual Holiday Open House. Saturday and Sunday December 14 & 15, noon til 4pm each day. Holiday social, holiday sale. There will be a huge host of deliscious stuff to sample, congenial company and a wide selection of reasonably priced homemade goodies to take home with prices staring as low as $1--stocking stuffers, pantry delights, cordials, books art and more.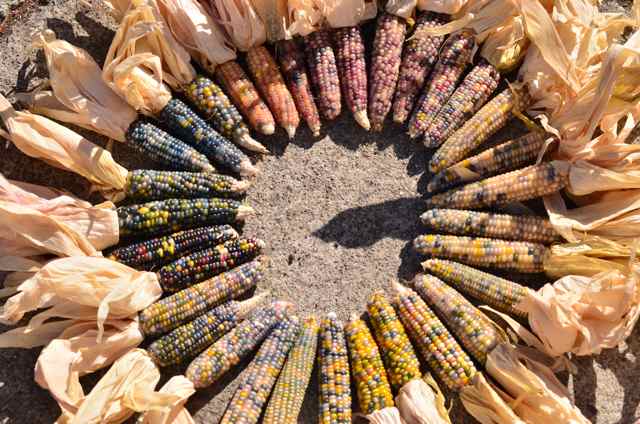 colorful harvest